4 June 2021
Rut Turró: On a Mission to Build an Inclusive Fashion Industry
How to make the field of entrepreneurship more inclusive to migrants and refugees, people with disability, seniors, women, youth? Together with members of the European Business & Innovation Centre Network (EBN), The European Venture Philanthropy Association (EVPA) and Caritas organizations, Impact Hub gathered experts and entrepreneurs from all 5 groups in a series of virtual working sessions – Communities of Practice – to debate, exchange, investigate, plan, prototype and evaluate the activities in the field of inclusive entrepreneurship.
The first virtual session of the Better Incubation program we are part of took place at the end of May 2021 and we got inspired to hear about what different entrepreneurs and experts are doing to build more inclusive entrepreneurship ecosystems. One of the participants is Rut Turró, she is, in her own words, a social entrepreneur in the fashion industry. She is also a woman entrepreneur and the founder of Moving Mood, which started as a clothing line for people with reduced mobility and turned into a research and consulting partner for the fashion industry on the topic of inclusive fashion. 
We asked her why she became an entrepreneur, what impact she aims to make on the world – she also shared examples of impact in action.  
Q: In preparing for our interview, I loved reading about how you want to give more power and opportunities to women, who carry the burden of day-to-day work but are under-recognised. I'm curious about your story as a woman entrepreneur, but first, what did you want to be growing up? 
A: I wanted to be like my mum, to take care of the house, the kids, etc. When I was seven years old, my family started a bakery in Barcelona. This was a turning point. Everything changed completely, with my parents working all day, every day, including weekends. My sister and I spent Monday to Friday with a babysitter. Saturday with parents and Sunday with grandparents. Suddenly, I did not want to be like my mum anymore. I wanted to be happy. I remember every year on my birthday I had the same wish: may everyone be happy.
Q: Your parents became entrepreneurs and it sounds like this wasn't the path you wanted to pursue when you were young. Yet, you call yourself a social entrepreneur today. Why did you become an entrepreneur? 
A: Because I couldn't find any job linked to social impact and fashion design. The only option was working in design for fair trade products at an NGO. Options were very limited and, usually, NGOs have many volunteers, not paid jobs. In the long run, this wasn't a sustainable path. Also, the products were 'hippie' and it was not my style. I would buy them because of the philosophy behind, not because I liked them. So, I decided to start a project by myself. Bringing together social impact, fashion and design. 
Q: It's always interesting to hear how personal frustration leads to new businesses! Beyond your desire to design better fair trade products in the fashion industry, were there any insights that led to starting Moving Mood?
A: The initial idea was to develop a clothing line for people with reduced mobility. All adapted garments available around 2011-2014 were very poorly designed and not fashionable at all! I started under the name Fit and Sit, focused on clothing for people permanently seated. It did not work very well. I understood early on that people wanted to buy clothes from traditional brands, so, I changed my initial idea and began to sell a service and provide knowledge on inclusive fashion for designers and brands. We changed the brand name to Moving Mood, moving for a good mood. And we are focused on research, product development, consulting and education.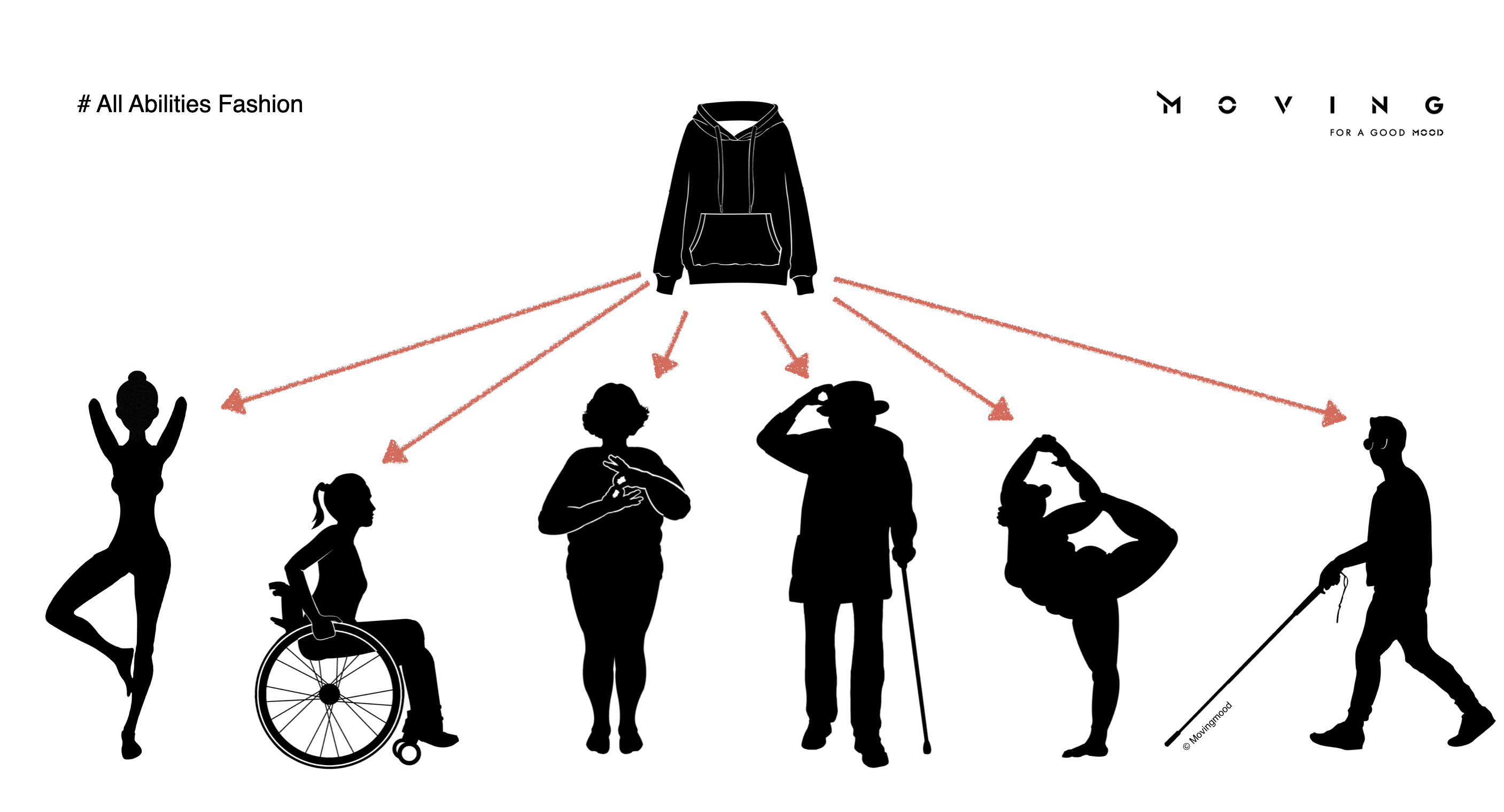 Q: Inspiring to hear! Now, let's talk about impact. What impact are you already making on the fashion industry – and perhaps as a woman entrepreneur too – and what's your impact ambition? 
A: Our impact is to include accessibility in design collections without the need to create a specifically adapted line, so all garments can be used by the whole of society, independently of their needs. We are training companies, design studios and students. 
Our impact ambition is to build a more equal fashion industry, with more inclusive products and job opportunities. For example, we developed an adaptation for an industrial sewing machine, so it can be used by people with physical disabilities!
Q: An inclusive sewing machine, what a good example of impact in action! I'd love to learn a little more about your views on women's entrepreneurship. Over the past years, you have collaborated with many entrepreneurial women – what have you learned from them? 
A: We are stronger together, we are better together. I constantly meet powerful women I admire. We connect easily, try to help each other and share contacts. I truly believe we empower each other. There's often a shared feeling and understanding of the troubles we face or have faced in the past – and shared pride in having come to where we are today as entrepreneurs. 
Q: I have to ask then, what advice do you have for female entrepreneurs? 
A: My advice for any entrepreneur is: do something that makes you vibrate from every pore of your skin.
---
Follow Rut and her inspiring work on LinkedIn, Instagram, Facebook or Twitter. 
Over the upcoming period, we'll be sharing more stories of inclusive entrepreneurship in this blog. Stay tuned!
To follow our work as part of the Better Incubation program, you can read more here, subscribe to our newsletter and follow us on our Impact Hub social channels: LinkedIn, Twitter, Instagram, and Facebook.
---